The Buffet Early Evette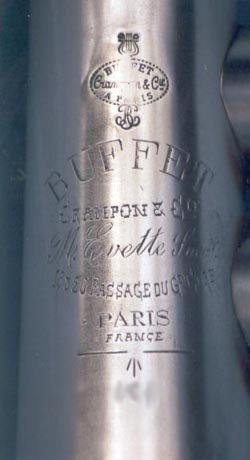 In 1918, according to the Boosey website, Buffet started selling horns under their own name in the US. These are probably those horns. They seem to be identical to the early Evette & Schaeffer horns (sometimes even including the additional keywork of the patented Evette & Schaeffer System horns) -- the only differences are different engraving, pearl keywork and a completely oddball serial number chart.that starts at either 1 or 100.
In any event, around 1933 the Buffet-Powell horns were introduced and they seem to follow the original Evette & Schaeffer serial number charts. It seems these Buffet models were discontinued and the Evette morphed into a student model (and has remained as such). A lot of post-1933 Evette horns were not made by Buffet and were very low quality.
The superb silver-plate bass pictured here (from Wichita Band Instruments and sold on eBay) has an Evette & Schaeffer serial number, not one of the "oddball" ones I mention. The explanations:
The Buffet bass and contrabass were custom instruments. It's definitely possible that some US company special-ordered one and Buffet just slapped an Evette & Schaeffer serial number on it.
Buffet quite probably did exactly what most other manufacturers did with all but the most popular saxophones, the alto and tenor: if you want an odd pitch, they'd break out the old tooling. If demand got high enough, they'd release the horn in the newer model.
You might think this bass is nickel plate, it's so shiny. It's not. Buffet used to like to advertise that they had "the heaviest quadruple silverplate". It's really the truth. My wife's 1915-ish curved soprano is as bright as a newly minted quarter, but has obvious silver tarnish.