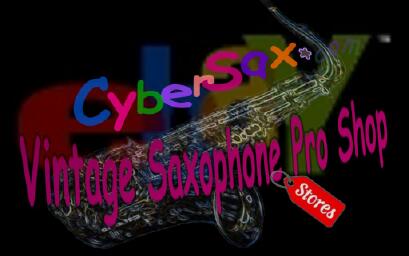 King-Lemaire
Eb Baritone Saxophone
108xxx, est. built c.1980

---
This instrument is of a good design derived from the great old Kohlert saxophones. It was built by Amati in Kraslice, The Czech Republic under an arrangement between them, King & SML, where King marketed instruments in North America that were designed & made in Europe by the other two firms. The Kraslice area is in Bohemia, which has changed hands many times over the years as wars raged through Central Europe. Kraslice itself is very near the current German border, and is where Julius Keilwerth and Joseph Kohlert (Amati claims ties to the Kohlert legacy today) built great saxophones & bassoons for many years. The town was called 'Graslitz' at the time Keilwerth started there in 1925. The horn doesn't have a bad pedigree at all, and though it doesn't currently play, the old Kohlert baris that I've played are really rockin' ole dudes.

---

This is a fixer-upper, but it's all here, including a good neck & serviceable case. Another plus is it's fairly clean, with no terrible odors or excessive corrosion. Looks like it may have been a school horn in the past. There's a lot of lacquer missing from the crook area, and the neck tenon has been re soldered, resulting in a lot of lacquer loss on the neck. The crook itself is tight & straight though, which is important in a bari you're considering as a project. The pads are a good quality flat metal reso type that all look to be in good shape. You may need to to replace a few to make everything seal up as you go through setting it up to play again, but there's a good chance maybe none will need to be changed, too. The remaining life will probably average about 60 to 70%. Exactly how long that is will depend on your play patterns and maintenance habits. No mouthpiece is included. A blow-by-blow assessment (in our opinion) of what it will take to make this monster whole again for you appears below in the section titled 'more'.

---

We're going to let this one go in 'as-is' condition for our friends who like the DIY horns -- or at least you can 'manage' the rebuild therapy yourself if you aren't up to tackling the actual work. Check the pix closely & ask your Qs, but please keep in mind that bargain baris from sources you can trust to give you all the skinny are rare ...

please click here to see all our pix of this beautiful instrument

more...
The horn is going to need the body side of the bell/body brace re soldered, which will entail raising a dent under the body side juncture first. It appears that someone has tried to reattach the body side (bell side is solid) without the proper prep work. Obviously the job didn't last long, either. Everything moves -- that's supposed to -- though some keys are sluggish. Count on a full disassembly & mechanism cleaning, then fitting and straightening as you put it back together so all works smoothly again. Count on replacing some missing & worn corks & felts, and maybe a spring or two. As she goes back together you need to check the upper body to see if the slight bend (probably due to the damage that broke the body brace joint loose) needs straightening for the action to work freely for you. All in all, the scope to put this honker back into service isn't a lot, but will take some time & skill. From the pix you'll see that there are lots of little dents & a cockamamie bell lip that are strictly cosmetic issues. We would view doing any significant dent work as optional, though raising that strap ring area back to level while the horn is apart is a good idea. The horn will play fine again without the extra dent work, and it actually looks pretty good from a few feet away now. How far you decide to take the rebuild depends on your tolerance for imperfections in great playing old bari saxes ...

please visit
stuff we gotta' say ...
CyberSax prefers PayPal as your method of payment, but Cash American works for us, too. We accept U.S. Postal money orders, bank checks, international or domestic bank wires and cleared personal checks.
email:
mailto:ebay@cybersax.com


or call: 918-625-9773

pay by eCheck or Credit Card

click logo to sign up

it's quick & free to buyers!
Shipping is actual cost, depending on your specified method and distance from beautiful and friendly Tulsa, Oklahoma (74145). International bidders are welcome, but please get shipping quoted before bidding. No one enjoys unpleasant surprises.
---
All our policies can be reviewed from our eBay store, but let us summarize briefly the answers to questions most frequently encountered concerning our eBay auctions:
1) Ending an auction early: Please Don't Ask.
2) Revealing our RESERVE prices: We Won't Tell.
3) Intentionally violating eBay policies: We Don't.
---
Please keep in mind that though we aim to please, some things are simply out of our control.
Ask those questions before bidding.
---
Thanks for your interest in our eBay listing. Please visit our

for information of interest to vintage & pro saxophone aficionados everywhere. We hope your browsing leads to the saxophone of your dreams ...